Social Responsibility and Online Casino Safety
Aside from financial security, an aspect of online casino safety that's often overlooked is that of social responsibility. For the vast majority, gambling is a form of entertainment no different to playing sports, watching movies or listening to live music. However, there is a small minority who are vulnerable, and casinos have a duty of care to look out for their safety.
KYC Checks
The most obviously vulnerable people are youngsters. There's a good reason why countries set a minimum age limit for online gambling, just as they do with buying alcohol or cigarettes. But those who are determined to circumvent the rules still need to be filtered out by a casino's security team. That's one of the main reasons why gambling sites apply such strict Know Your Customer (KYC) checks.
In days gone by, you could register a casino account with little more than a name, telephone number and email address. But today, you must prove that you really are who you claim to be by showing identity cards, utility bills and other documents. Admittedly, this is partially to help counter money laundering and terrorism, which is a valid reason on its own. But it's also to stop underage players from using false documents to gamble.
Problem Gambling
Another vulnerable group that must be kept safe by online casinos are problem gamblers. In recent years, the best wagering sites have been proactive in introducing safety measures to help people remain in control of their gambling. But regulators are demanding tougher controls to ensure that casinos and betting sites behave responsibly and do not take advantage of such people.
In addition to providing access to third-party providers of financial and psychological support, casinos today must offer responsible gambling tools. The most extreme option is self-exclusion, where the player voluntarily opts to block access to the gambling provider. Periods of exclusion usually range from six months to a lifetime ban, though the rules vary by jurisdiction.
Not all problem gambling tools are as extreme as self-exclusion, however. You can configure gentle reminders, which pop up on the screen to remind you how long you've been playing, for instance. Other safety measures for problem gamblers include deposit limits, withdrawal limits, loss limits and temporary timeouts. A more recent trend allows the removal of the popular reverse withdrawal facility, followed by a Withdrawal Lock option, too.
Which Payment Methods Guarantee Safe Casino Gambling?
When gambling online, there are a number of crucial choices to be made. Aside from selecting a casino to play at, the option of which payment method to employ is possibly the most important.
This selection will be influenced by a multitude of circumstances. They include security, payment speed, convenience, and in some instances, the law. Now, let's take a closer look at some of the most common online casino payment options.
#1 American Express
American Express has been in the financial services industry since 1857. A highly respected and internationally reputable credit card company, many gamblers use AmEx in order to collect reward points. Although not all sites accept American Express, it's a trustworthy option for those that do.
#2 Visa
Another name with a huge reputation for safe and reliable payments, Visa processes 150 million transactions every day across the globe. A provider of both credit and debit cards, they've been in the business for more than 60 years. Few banking methods are as widely accepted by casino sites as Visa cards.
#3 Visa Gift Cards
Prepaid gift vouchers are the perfect hassle-free present for someone that's tricky to buy for. Lots of people end up with one and have no idea how to spend it, increasingly using them for online gambling. Visa gift cards are accepted by many wagering sites, making them a secure and practical option for funding casino accounts.
#4 Check
Depositing and withdrawing by check is not the easiest way of transacting with an online business. But many people simply don't have access to a more modern casino deposit method. Besides, there's something reassuring about using a tangible payment option. Plus, the slower process can also help people to gamble responsibly.
#5 eCheck
A happy compromise between old-school paper checks and more high-tech payment options, eChecks are very popular in the United States. They utilize the Automated Clearing House (ACH) to transact online, meaning they're quicker and more convenient than a regular check. For those yet to embrace e-wallets, mobile payments or alternative methods, they're the ideal choice.
#6 Cashier's Check
If you're handling particularly large sums of money and are unable to transact electronically, a Cashier's Check is the perfect option. Extremely secure and hard to counterfeit, these are guaranteed by the bank for a fee, to ensure they won't bounce. It will require a trip to your local branch, but if it's peace of mind you're after, there are few better methods.
Casino players seem to favour these payment options as they have a long history of reliability, security, and integrity. Such methods have been around for decades, unlike more modern alternatives. And with that comes a certain comfort and reassurance that your money will be safe from fraud. Naturally, we will keep monitoring for any changes and updates regarding online gambling and its compatible payment methods.
When picking a new casino site, it's vital that you research things properly. One of the most important elements is undoubtedly choosing one that offers safe payment options. Although speed and accessibility is important, you should never compromise on security.
Stick to the advice found in our guide, and you'll easily be able to navigate the world of online casino payments. If you've got any questions or concerns, let us know! Good luck!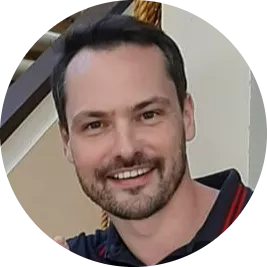 GAMBLING AUTHOR
Dominic Field
A gambling industry professional of 15+ years, Dominic has launched retail and online gambling sites for industry giants around the world. His interest in gambling…
More info on Dominic Field